I started my "Geese in the Forest Quilt" and I think I love paper piecing.  We'll see how I feel after another 97 blocks (I have three done).  The pattern is from Twiddletails, but I didn't follow their tutorial on paper-piecing, because it made my brain hurt.  It was very nicely done and I am sure it is fine for beginning sewers, but it was very involved, with freezer paper and perforating your paper with a seam ripper. Please, if you are going to perforate 500 lines, use a pounce wheel: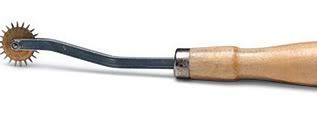 It will save you a ton of time and it also doubles as a deadly weapon.
I also found a few other tutorials that involved glue sticks (which are all packed) and cutting each seam allowance to 1/4″ before sewing, but in the end I just slapped that fabric on my computer printouts and sewed it down. I did use 2 pins each time and I iron A LOT.  Not ironing after sewing a seam is a huge pet-peeve of mine.
The paper ripped off fine afterwards.  Just use a small stitch (I used a 3), and rip slowly and while watching TV.
I am also happy that I got to put all my *new* vintage sheets from my swap buddies to use!