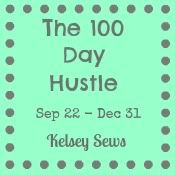 Today is not only the first day of Fall, it's 100 days until the end of the year!  Kelsey Sews is hosting the 100 Day Hustle to help kick everybody's butts in gear and get those unfinished projects done.  Wouldn't it be nice to start 2013 with a clean slate?
I'm trying to be realistic with my list, because we are moving in a week.   Unpacking is going to eat up a lot of my time for the next month.  Luckily, we are moving back into our old house, so I already know where everything goes!
My To-Do list:
1. Finish "Fat Quarterly" Christmas Tree Skirt.
2. Finish "Unwind" quilt -this is a gift
3. Make "Little Folks" Patchwork quilt for Living Room
4. Finish "Single Girl" Quilt for Master Bedroom
5.  New pillows for Living Room.
I'm just going to forget to unpack a few other quilts and pretend they don't exist for now:
Hexy Scrap Vomit Quilt ••• Vintage Sewing Bee Quilt ••• "Bee Happy"  Wonky House Quilt ••• Geese In The Forest Quilt••• I-Spy Quilt ••• And I'm sure something I've forgotten.
Honestly, I'll be happy if I just get #1 and #2 done.  I also need to make Halloween Costumes somewhere in there.
Head on over to Kelsey's Blog to join in.  There were be special guests and prizes to be won!