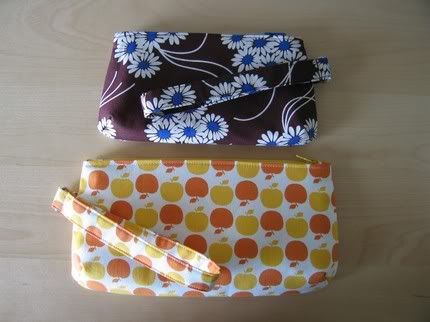 I want to make wristlets.  I want to make lots of them in fun modern fabrics with bold, funky linings.  I think it would be a perfect gift for my friends and I could have one to match every outfit..  I am a pretty low-maintenance girl, so I like to carry the smallest purse possible.  It just needs to fit my ID, debit card, iphone, key and a lipgloss (tinted, of course).  It kinda pains me at times that I have to carry around a giant diaper bag that just gets bulkier and bulkier.
I have been eyeing this pattern for awhile from "Oh Fransson!".  I actually searched and searched for a wristlet tutorial to show you that was free, but Elizabeth's wristlets are above and beyond all the others.
How can this get any better?  Twin Fibers made the wristlet from vintage sheets!
One day I will have time to make cute little wristlets, but in the meantime I bought this from Target today: