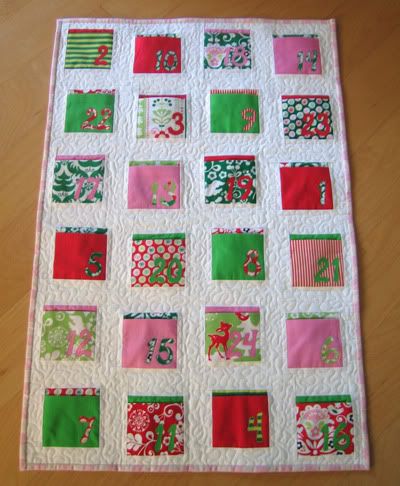 I have SO many projects lined up to work on right now, but I saw this advent quilt designed by Elizabeth at Oh Fransson on Sew, Mama, Sew's Blog today and I had to add one more to the queue!  Elizabeth always designs the most adorable quilting projects and I feel like a total groupie, because they are the only quilts I have made!  There is a PDF on Sew, Mama, Sew's Blog with instructions on how to make your own advent calendar quilt.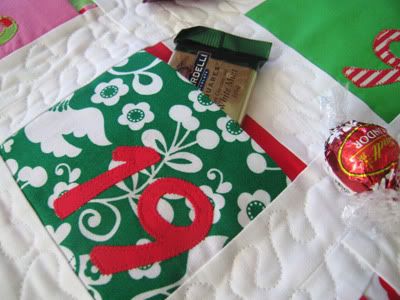 My husband and I are excited to continue this tradition with our children (and I am sure hubby won't mind getting candy or a trinket everyday either!).  
This advent calendar is so adorable and whimsical.  I saw Michael Miller's "Funky Christmas" Fabrics recently and wanted an excuse to buy them.  I ended up purchasing this fat quarter set from Sew Mama Sew (shhh, don't tell the hubby), and I should be able to get a couple calendars, or a calendar and a quilt, so I can give one as a gift!  I'll probably purchase Kona Cotton solids from Jo-anns for the rest of the fabrics. Of course, you can use any fabrics you want, but take note that the new Christmas fabrics are out now, so scoop them up before they are picked over!
 I won't be working on this project for awhile, but I can't wait!