And the winner is…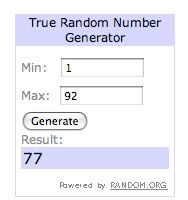 Liz B.!
Congrats Liz! Thanks so much to everyone who entered.  I was blown away at the amount of entries and I am really excited to check out some new blogs.
The move went well and we are settling in.  I am hoping to get back to sewing in the next few days.  I am itching to make some Bee blocks!
Thanks for a great first giveaway. I'm hoping to do more in the future.