I am trapped on my big, overstuffed chair feeding/holding the baby pretty much 24/7, so while I can't sew, I can surf the net and oogle fabric and other quilter's projects online.  I broke down and bought some 1/2 yards of the Sheri Berry Holiday fabric along with some fabric from Moda's Figgy Pudding line.  I can't wait til they arrive!
I will have quite a stash of Christmas Fabrics, so I need projects to go with them!  One is the Advent Calendar from Sew, Mama, Sew.  I also came across this great idea for a Christmas Tree Skirt done two different ways:
Quilted Tree skirt from Film in the Fridge.
Quilted tree skirt from Sew, Mama, Sew
Both blogs have a link to tutorials, so you can make your own!
Someday I would really love to try the Trees For Sale quilt pattern by Sandy Gervais.  I saw this version by Not Your Run of the Mill and I have to say I love it even more than the original:
The Figgy Pudding tree print really complements the pattern and I can't wait to see the finished product!
I have only made quilts with squares and strips, so this would be something new for me to try.
Speaking of new, here is a quilt by Red Pepper Quilts with triangles that I will be saving in my inspiration folder.  You all know how I adore projects that utilize scraps and this one is a doozy!  I cut most of my scraps into strips for my string quilt, so I'll have to start saving new scraps for this quilt: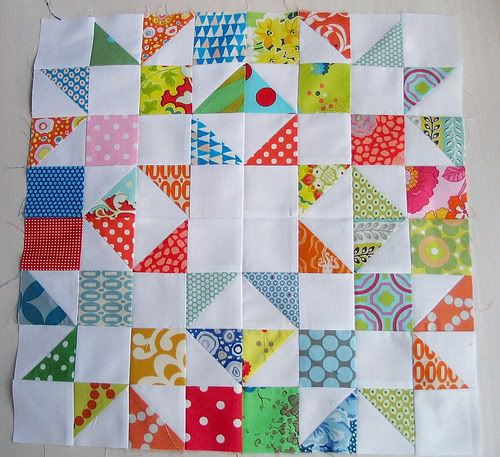 Scrappy Star Block by Red Pepper Quilts
If you google "Half Square Triangle Blocks" you will find many tutorials on how to make them several different ways.  I plan to use this one.
The quilt is made up of 9 of these gorgeous blocks and I am excited to see how the quilt turns out!