Wow, the last three weeks have been crazy!  I barely have time to eat, much less sew.  Hopefully I can sneak in a little quilting time once Liam starts taking more regular naps and has a schedule.  He is asleep on my chest right now, but he is seriously awake most of the day and expects to be entertained.  I thought newborns slept a lot! Naps, or no naps, we are having so much fun with him.
On Saturday I co-hosted a baby shower for my good friend, Debra.   I finally got to give her the quilt I made for her little girl, Annabelle, due in 6 weeks.
For Annabelle I made a girly version of the stacked coin baby quilt I had made for Liam.
The "featured" fabric is Michael Miller's "Smitten Kitten".  I actually bought this fabric when I was SO sure that I was having a little girl.  I still have a bunch left, so maybe next time, ha!  I am glad I was able to use some of it, because it is so adorable.  The other fabrics are various scraps and swatches I had, including Amy Butler's "Midwest Modern" line and some vintage bed linens.
The back of the quilt is pink Minky Dot.  So soft!
I hope Annabelle loves this quilt to shreds for many years!
Liam got to enjoy his quilt when he was 8 days old.  Well, I guess he doesn't really appreciate it yet, but his daddy did.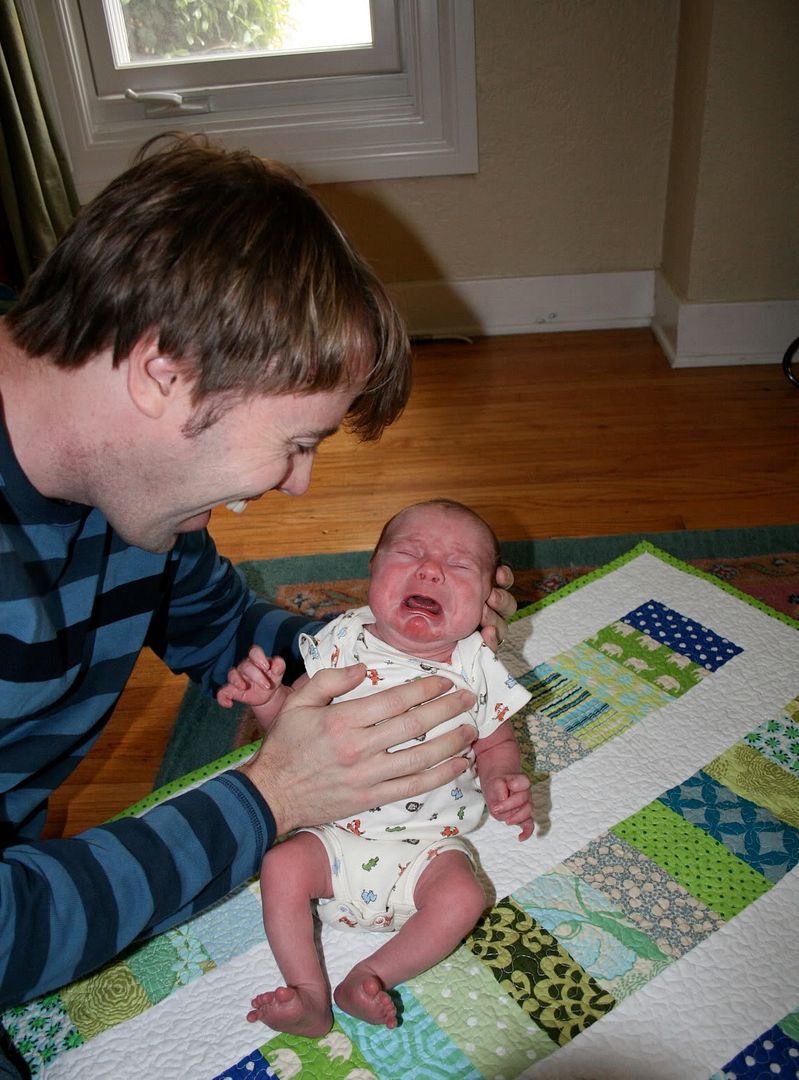 Don't worry, he didn't cry for long.  He has a much cozier place he would rather lounge right now: