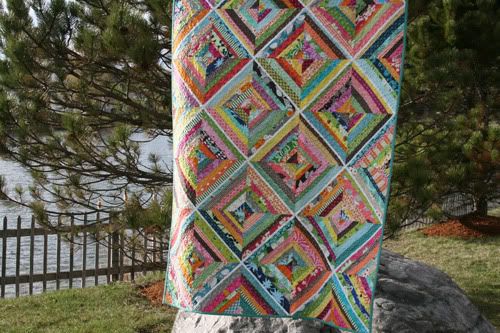 My Inspiration.  A string quilt by Ashley at Film in the Fridge.
I found this tutorial over at Film in the Fridge and I couldn't wait to try it out myself.  I hate waste, so I am always looking for uses for my fabric scraps.  I loved the look of Ashley's quilt.  The thin strip of white brings everything together so nicely and making these blocks is really mindless (which will be great once the baby is born!).  There is no pattern to follow, you just sew strips together on a piece of paper.  I have all the strips ready to go and can just make a block here and there when I am in the mood. 
my stash of lovely strips:
Blocks I have made so far:
I am making my blocks 7″x7″, since many of my scraps are quite small, but I am not sure how big my quilt will be in the end, or how exactly I will lay it out.  I may do a white border around the outside. 
I just want to keep making more squares, but I have to put it aside for now and finish up some baby projects that are waiting.